LED Emergency light retrofit kits are extremely efficient because they consume minimal amounts of electricity as opposed to incandescent Emergency Lights. Incandescent bulbs can consume up to 40 watts of electricity and have a limited lifespan of only 1,000 hours. Most LED Emergency Light retrofits do not exceed 5 watts and can last up to 50,000 hours which will significantly reduce the number of times you have to replace a burned out light bulb.
LED Emergency/ Exit Sign Options
When choosing LED Emergency Lights or Exit Signs there are plenty of options. The most popular option is the Emergency Light/ Exit Sign combination but in the event there is limited work space a standalone Emergency Light or Exit Sign might be the answer. Sometimes the solution to the problem is to simply replace the existing bulbs with brand new LED light bars or LED light bulbs.
LED Emergency Light/ Exit Sign Combo
Whether you're replacing an existing sign or you're considering purchasing a new one, an LED Emergency Light/ Exit Sign combination is a great option. They consume 3.6 watts, produce 300 lumens, are made of heavy duty steel and have a nickel cadmium battery backup in case of a power outage.
LED Exit Sign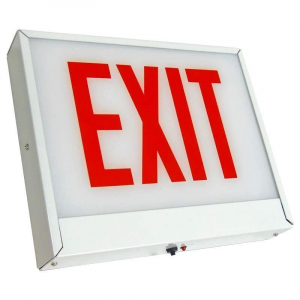 In some cases real estate is limited and a combination unit will not fit in the existing space so it is best to go with a standalone LED Exit Sign. It comes in a steel case with a cadmium battery backup and all the standard LED benefits; low wattage, long life, and bright illumination.
LED Emergency Light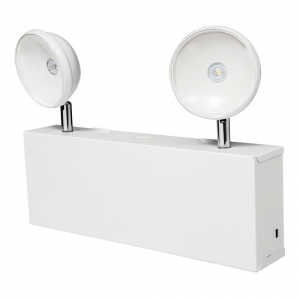 If all you need is an Emergency Light, an LED fixture that has dual headlamps, uses just 1.7 watts, produces 300 lumens, and is housed in a steel chassis with a nickel cadmium battery backup should meet your needs. This is a very sturdy unit and is a real energy saver.
On occasion it is more practical and cost effective to replace the "guts of the sign" instead of the entire sign. LED Exit Sign light bars use only 4.5 watts of power and are the perfect tool. It does require an electrician to remove the old hardware, but this retrofit kit can be installed in less than 30 minutes and will result in long term savings.
LED Exit Sign Light Bulbs
Finally, if all you need to do is to replace a burned out light bulb, specialized LED Exit Sign retrofit kits are perfect. Each kit comes with two very bright, high efficiency, 3.4 watt LED bulbs. They are daylight in color and come with adapters in the event the fixture requires an E17 intermediate base or BA15D bayonet base. Best of all, they have a lifespan of 50,000 hours so instead of replacing your light bulbs every six months it should be approximately every six years.