LED exterior lighting has replaced traditional exterior lighting because High Intensity Discharge bulb technology is outdated and replacement bulbs and ballasts are difficult to find. HID bulbs are subject to a reduction in lumen intensity, color shifts, have a lifespan of 20,000 hours, and consume substantial amounts of electricity, whereas LED bulbs are immune to these issues. LED bulbs maintain their color and lumen intensity, last between 50,000 to 100,000 hours, use minimal amounts of electricity, and are far superior at light distribution.
Light distribution is essentially the pattern of light a fixture will project onto a surface and there are two types of systems that are used to describe light distribution. Choosing how light is dispersed for an outdoor lighting project is just as important as choosing the correct color temperature or wattage.
Light Distribution Type – IESNA
The Illumination Engineering Society of North America (IESNA) established a light distribution system that consists of Types. There are five Types (one through five) and each one is displayed using Roman Numerals with Type III being one of the more common types. This system was developed to identify the distribution pattern of a fixture and correctly match it to the right application. The IESNA system is helpful when deciding on the proper lighting devices for area and parking lot lighting.
Light Distribution Type – NEMA
The National Electrical Manufacturers Association (NEMA) also developed a light distribution system. Their system known as the "NEMA Beam Spread" ranges from 1 to 7 and describes how light spreads horizontally and vertically. It is shown as the value of 'H' multiplied by the value of 'V'. For example (6 x 5) and (4 x 3) are common examples of Nema Beam Spreads. This system is primarily used to classify flood lights and to show whether the light output is very narrow, very wide, or somewhere in between.
LED Wall Packs/ Area/ Flood/ Gooseneck/ Parking Lot Lights
When choosing an exterior lighting device it is very important to select a fixture that has a high lumen count and proper light distribution.
LED Large Wall Packs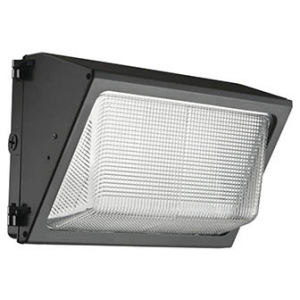 When security is a priority, better light is worth it. Large LED wall packs are the ideal lighting device for loading areas, sidewalks, and small to medium size parking lots. They are also highly efficient, environmentally friendly, shock and vibration resistant, and will operate effectively in hot or cold temperatures, while providing quality lighting within a wide range of applications.
LED Small Wall Packs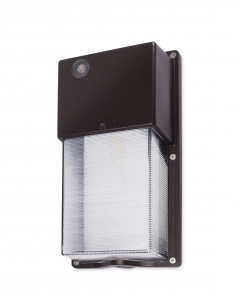 When lower light levels are needed for smaller spaces, such as doorways, stairwells, or to increase the visibility of important information, small LED wall packs are a great solution. The majority of fixtures have a built-in photocell that will provide dusk-to-dawn operation for years to come.
LED Area Lights
LED area lights are the perfect tool for illuminating doorways, walkways and courtyards because they maintain their color temperature and intensity for years, giving you a longer lasting and higher quality light source. On the contrary traditional HID systems fade quickly and turn yellow over time.
LED Flood Lights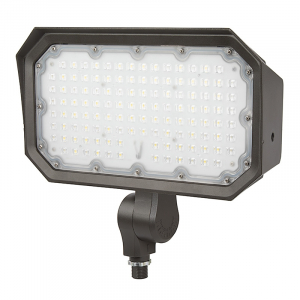 LED flood lights provide the ideal outdoor illumination for both accent and visibility, from small gardens to large open spaces that require high output and wide light distribution. Flexible mounting options such as slipfitter, trunnion, yoke or knuckle mounts, allows LED flood lights to be mounted on the ground, on poles, or on the top of buildings. When the sun goes down LED flood lights are one of the best options to highlight architecture and signs, which will provide sufficient lighting to create an attractive external environment or to increase security.
LED Gooseneck Lights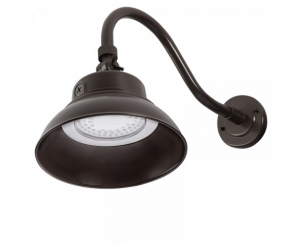 LED gooseneck lights are a unique blend of contemporary meets historic and a wonderful way to provide smooth, uniform light to retail and commercial store exteriors. Ideal for awnings, sign lighting, and many other outdoor applications, LED gooseneck lights are not only high performance, but are also aesthetically appealing.
LED Parking Lot Lights
LED parking lot lights are an effective way to replace HID lights and illuminate and improve the look of parking lots, pathways and access roads. With three times the lifespan of HID lights, LED parking lot lights offer a higher lumen output with lower wattage consumption; an important factor to consider when using a large number of lights. LED parking lot lights shine brightly when reliability and performance are critical and will substantially reduce maintenance and replacement costs. As a result this will provide an excellent return on your investment.
LED PAR38 light bulbs are lighting devices with "spot light" or "flood light" features. This means that they are at their best when they are used to focus a beam of light directly on an object such as illuminating walkways or for accent lighting, whether to highlight driveways or anything else that you want featured. When LED PAR38's are used with a photocell it will automatically turn the device on and off from dusk to dawn and is an excellent tool for outside lighting while using 90% less energy than incandescent or halogen light bulbs.
LED Wall Sconces are mounted on a building's exterior to create a welcoming atmosphere and to enhance commercial and residential architectural aesthetics while providing illumination for both safety and security purposes. Decorative cylindrical and rectangular LED wall sconces feature an aluminum body that provides up/down, down only light via integrated LED's or with screw-in LED light bulbs. That is why they are the perfect fixture to complete any outdoor lighting project.